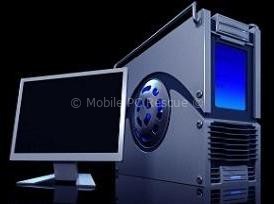 Mobile PC Rescue offer computer systems, repairs and services in and around Manchester, Tameside, Stockport, Glossop and surrounding areas.
Formed in 2002, the owner has over 25 years of experience in the I. T. Consultancy & sales sectors.
The company delivers a professional service to businesses and the public sector. The service is speedy and professional, helping clients to get back on their PC's as soon as possible.
The company supplies reliable computer related products that are made to your specification and all carry a 12 month warranty.
Mobile PC Rescue supply custom made computers to your exact requirements using only high quality branded components.
Mobile PC Rescue specialise in NON-DESTRUCTIVE virus removal and operating system repair. They can also backup your existing files to external media, DVD or Blu-Ray Disc. Please see the SERVICES page for a list of what we can do for you and your business.
Mobile PC Rescue has an expanding customer base, based in the local area, including: Bradford Garage, Sleigh and Son Solicitors, Booth Ince and Knowles Solicitors, Halls Butchers, The Lakes Care Centre, Fairfield View (care home),  FloControl Ltd, Almond Solicitors, Armex, The Fitzroy Social Club and more.
Since Steve was introduced to our Company he has added a new dimension to our computer systems. His enthusiasm is infectious – service with a smile.
Harry Taylor of Ashton Ltd
I would like to thank Steve for fixing my Laptop having being duped by this so called Microsoft scam, it felt real to me they locked my Laptop and said they would delete everything if i didn't pay them. I gave them my card details (Bloody idiot or what) I had to cancel all my cards at the bank in formed the Police and Western Union they tried to take out £322.99 from my account and were still trying to use it at Western Union until I informed them. I phoned Mobile PC Rescue and took my Laptop to Steve at 6.30pm Monday and picked it up at 6.00pm Tuesday you cant get better than that. I would like to thank Steve who said it was a challenge but managed to do it. You wont go wrong if you have computer problems if you contact Mobile PC Rescue. Thank you.
Laptop fixed with very fast service and great value! Totally recommend Steve for his great work.
I have recently had an issue and Steve helped greatly. He didn't waste any time and sorted the problem despite it being "after hours".
I will definitely use again, very very happy.
nothing is too much trouble for Steve .he is so helpful and has repaired my PC no problem …….certainly recommend him to anybody absolutely brilliant service ….
Steve carried out a full internal clean and virus removal on our pc. It was in a terrible state, but Steve had it looking and running like new within a day. He is an excellent workman who takes immense pride in his job. His rates are very reasonable and the work is carried out to a high standard. I would definitely recommend him to anyone needing any computer work doing.
We live 200 miles away and wouldn't change to a local company. Read more
Retired Service Engineer
Retired
West London
Steve runs the web site for our bed and breakfast business. I have always found him quick to act on my requests for alterations to the web site producing the results we require at a reasonable price.
Great Harwoods Farm Bed and Breakfast
East Grinstead
really happy with the quick service i got when i phoned Steve-who reloaded my pc and installed top notch anti-virus…..
I would recommend him to everyone!!!!
Steve came out at short notice to service my pc. it is now running quite a bit cooler even with a huge overclock. The 12/24 core pc is now competing in the World Computer Chess Championship. Hopefully Steve's work will help us win it!
Steve has always been on first hand when i've needed my PC sorting out, will always approve him to other customers.
I have  been a customer of Steve's for a long time i am not much good on computers as Steve will tell you but Steve has helped me so much i now have a laptop thanks to Steve and when every thing goes pear shaped all to often Steve puts ever thing back to normal i always ring Steve when i make mistakes he's brill and always comes when arranged.
Steve has provided and serviced our family's computers for 3 years Read more
I'm so impressed with the fast, reliable service Steve provided. He went the extra mile which sets mobile pc rescue apart from the nearest competitors. I've now got an upgraded machine that's spotlessly clean and working the best it has in years. I'd definitely recommend the company to anyone. Thanks Steve, you're a gem Jue
Knew exactly how to solve my network problems. Would definitely recommend to anybody requiring a very good IT engineer or basic set-up.
Steve has done jobs for me on my laptop in fact he has saved it from the bin so many time he is good and very reliable and very good value for your money.
Have used Steve for a number of years and he is very professional, helpful and will to go the extra mile to assist.
I have recommended him to many friends and family who have also used him and all are more than happy with the service provided.

I will continue to use Steve as required and continue to recommend him and his company to friends and family.
Dear Steve
Just to say that your service is still as fast and friendly as always, and always willing to give me good advice
David Buckley
hairdresser
hair today
Rochdale
Kind and honest trust worthy and reliable an excellent professional service good value for money really happy with Mobile PC Rescue.
Cheers for fixing my computer sooooooooooo many times cause I never take your advice to install good protection on it and also for sorting the DS Lite screen, Cheers Steve
First rate service, fast, friendly and reliable. First rate advice and sorted all my pc problems in one visit